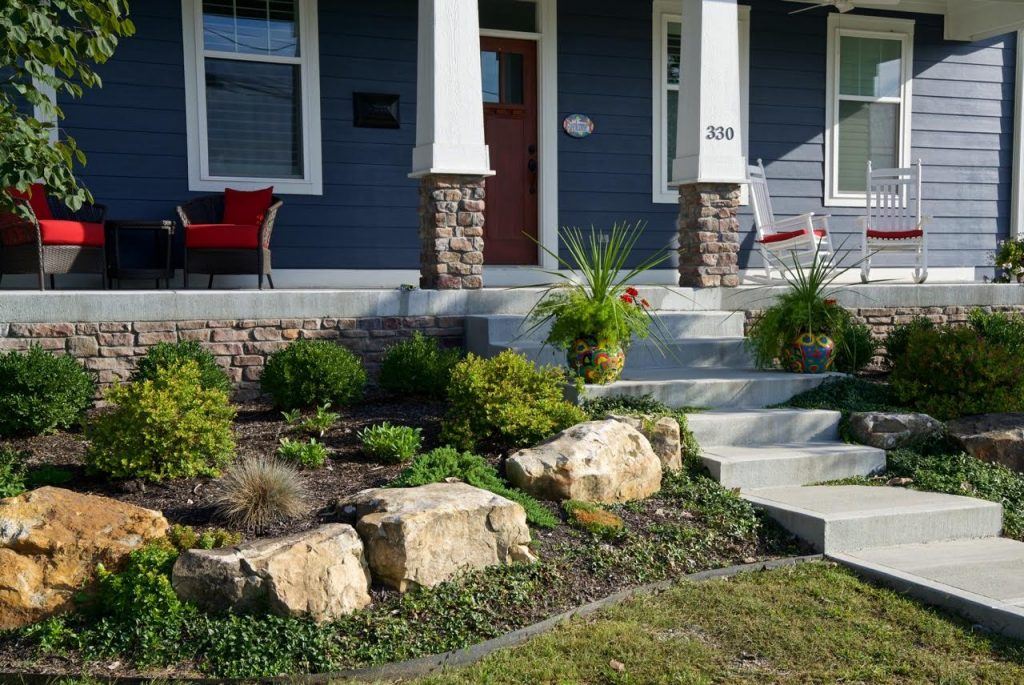 There are literally 101 ways of landscaping with rocks, and probably hundreds more. When many people think about landscaping they focus only on flowers, ground covers, shrubs and trees. The elements missing in this type of landscape design are stones and rocks, which provide varying heights and contours that keep the backyard landscape interesting and unique. Successfully integrating rocks into your landscape turns them into a focal point – each rock being placed to create a specific look and feel.
Additionally if you're using natural rock, it looks like it's part of your yard's natural environment even if you purchased the stone elsewhere. Of course the greatest advantage of using rocks in your garden is they require no watering, trimming, or fuss.
Having rocks in your landscape changes the overall feel of your yard. Think of a Zen rock garden as one example. It's both beautiful and relaxing, and has a practical application for individuals who enjoy moving meditations. Other ideas include using stone in combination with water features for a deep-forest atmosphere, or lava rock for a tropical paradise. The potential combinations are only limited by the space available, the budget and your imagination.
Choosing Rocks for your Landscape
Landscaping with rocks means taking a little time to educate yourself on the different types of rocks available to you. There's a huge difference in cost and materials comparing a water feature with stone to decorative ground cover. Not all rock is the same in terms of durability.
Additionally you also have fake rock from which to choose. Fake rock is lighter and comes in custom sizes and colors. These stones offer the advantage of having hollow areas that are perfect for storing tools or hiding unappealing eyesores (like exposed piping).
Accent Landscape Boulders
Accent boulders help you build levels into your landscape without bringing in extra soil. They also give the whole landscape design a unique character that impacts the view with a little drama and interesting angles.
One of the keys to using accent boulders effectively is making them appear as if they literally grew out of that spot. Putting the bottom of the stone down about 4″-6″ achieves that effect, particularly in combination with decorative grasses nearby.
Planning and Placement of your Landscape Rocks
Use graph paper and try a couple of different plans for the landscape. Landscaping with rocks, and particularly boulders, is heavy work. You want to get the placement right on the first try. When drawing your rock design I would suggest grouping your rocks in sets of three, four, or five, in various sizes and shapes. This type of plan creates a natural appeal rather than something that seems formal and contrived.
Types of Landscape Rocks
Small to medium sized rocks have a lot of flexibility in your landscape design. Use small stones in place of mulch in combination with landscape fabric for weed control, for example. Small stones help with drainage around pools and patios, and make a textural filler around trees too.
Place medium sized stones so as to create garden pathways. Or, use them as a natural support for a top heavy plant. Medium sized stones also create rustic borders and low-lying walls with a little engineering.
Three very popular natural stones for landscaping with rocks are flagstone, schist and river rock. The flat nature of flagstone and its unique shape makes it ideal for creating patios and pathways. Smaller pieces can be attached to garden boxes or fountains for a cobbled look.
Schist comes in a wide variety of colors, which is one reason why people like using it in landscape design. Schist has long, thin rock layers that work well in small garden streams. Blueschist provides striking appeal for wallscapes. Greenschist stands out when polished to a marble finish, and Chert has stripes of black for a dramatic backdrop in ponds.
As the name implies, river rock comes from rivers and has soft, round edges. This makes it a good option for landscape designs requiring draining. Of course river rock also suits water features beautifully. Scatter a few river rocks around areas that attract butterflies to give them a soft surface for landing.
Whether you want a splash of texture and natural colors for ground covering or a full-out rock garden, landscaping with rocks is a great choice. Rocks endure the elements and truly offer one-of-a-kind uniqueness in sizes and shapes, some of which are sure to fit your plans.
Use artificial rocks to cover unattractive areas or as clever hiding holes for tools, then bring natural rocks of all sizes into the landscape to tie your theme together perfectly.