Recently we received a question asking if it really is necessary to winterize sprinklers, "Do I need to worry about winterizing my sprinkler system?" Great question.
Most people want to protect their sprinkler system. They know there is a significant investment and they want to protect it. By blowing out the sprinkler system with compressed air, they gain a sense of confidence that they have protected the investment. They want to ensure that the sprinklers will work properly for years to come.
The full answer
The main thought here seems to be—if it's underground how can it freeze? The simple answer goes something like this. During periods of freezing weather, the frost level sinks deeper and deeper into the soil. How deep the frost goes depends on how cold it is and for how long. After temperatures rise above freezing, the soil gradually thaws out.
Ok, so how deep is your sprinkler sytem buried? Most sprinkler system lateral lines are at a depth of 8-12 inches; valves are around 12 inches; and the double check anti-siphon device at between 12 inches and 24 inches.
Now let's look at the variables
You really don't know what's under the ground and you don't know how deep it is!
Sometimes it gets really cold and it lasts a long time. When this happens the frost line goes deeper.
Micro climates matter.

If there is a very windy spot the cold goes deeper in that area.
Maybe there is a concrete retaining wall with sprinkler pipes just on the other side. The cold comes from the top and from the side, so it penetrates a lot more.

Even soil conditions, mulch or the lack thereof, vegetation, and other things influence how deep the frost penetrates.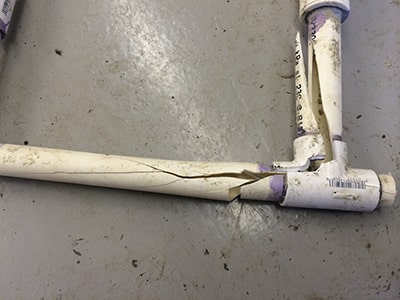 What may break in a freeze and what happens then?
Pipes can crack if they freeze when filled with water.
Similarly the pipe fittings can crack.
Valves can also be affected. These are the most expensive parts.
For some parts, especially those made of metal, the affects of alternately freezing and thawing are cumulative. You may get by for years and then something breaks.
The Full Package
Winterizing your sprinklers is just one part of ongoing care for your sprinkler system. Possibly an even more helpful service is the Spring Start Up. That service activates the sprinkler system by closing drain valves, turning the water on, and then cleaning and adjusting the sprinklers as needed. If the sprinklers are not cleaned and adjusted regularly, sprinkler system performance will deteriorate. This is also an opportune time to do any needed repairs just before the watering season begins.