Creative patio ideas can transform a mundane outdoor area into an oasis of tranquility or the hub of your family's summer activities. While patio decorating ideas abound, you have to have a plan to achieve the effect you want. Initial considerations should be the space available, budget, and needs of your family.
First, sketch your patio and floor plan with the elements you know you will want. A patio water garden definitely adds ambience as does a fire pit. Depending upon the space required for your patio landscaping ideas, you may not have room for both. Of course, small patio ideas will differ from those patio designs suitable for the Gardens of Babylon. However, you know you will need furniture so that is a good place to begin.
Choosing The Right Furniture For Your Patio
Usually, when you walk onto a patio the first thing you do is to sit down. After all, your patio is an extension of your home so you want the furniture to be comfortable and inviting. Patio furniture has to be able to endure moisture, heat, cold, and sunlight. Most commonly, patio furniture is made out of metal, wicker, wood, or resin.
Wood
The most prevalent woods for manufacturing outdoor furniture are redwood, cedar and teak because they can endure the elements and retain their beauty. Teak is relatively maintenance-free. Applying teak oil will help the wood retain its warm color or simply let it weather to an attractive grayish coloration. Cheaper woods will need to be painted or stained to preserve them.
Wicker
Wicker can be made from any number of materials and its soft feel and elegant style fits a number of patio ideas. Lightweight and sturdy, wicker is durable but heat is its enemy. To prevent wicker from drying out, place it in the shade if possible and cover it when not in use. You may also need to revarnish it at some point.
Metal
When considering metal furniture in your patio ideas, aluminum has many advantages. Whether cast or extruded, aluminum resists corrosion. With intricate patterns, cast aluminum furniture resembles wrought iron without its disadvantages. Extruded aluminum furniture is lightweight and easy to move and store.
Resin
Available with cushions or mesh seats and backs, resin patio furniture is lightweight and can be molded to resemble wicker or wrought iron. Resistant to heat and cold, the paint is molded into the resin so chipping and fading paint won't ever detract from the furniture's beauty.
Patio Decorating Ideas
The vision and scope of your patio ideas will be defined by its amenities. If your patio is open to the world perhaps tall wooden shutters attached to each other by hinges would provide a windbreak and add privacy. Adding a fire pit or free standing fireplace will provide warmth and charm on cool evenings. A major patio activity is barbecuing so deciding on the type of grill you want is key. A portable propane grill is convenient, but a bricked and tiled grill adds elegance.
For a soothing touch consider a water feature in your patio ideas. The sound of running water creates mood and atmosphere. Speaking of sound, consider adding a sound system, large or small, to increase your enjoyment. Using a theme for your patio is one of the easiest ways to decorate your patio. Here are some patio decorating ideas using tropical, Asian and nautical themes. Finally, embellish your patio with decorative accessories that appeal to you such as an old wheelbarrow, whiskey barrels, wind chimes, pottery, or rugs.
Outdoor Patio Rugs
Think outside the box and include an outdoor rug in your patio ideas. Outdoor area rugs  are mold, mildew, and stain resistant. Designed to dry quickly, they can be washed off with a garden hose and will not fade with constant exposure to sunlight. Besides lending elegance, they are useful to visually separate different zones on the patio.
Lighting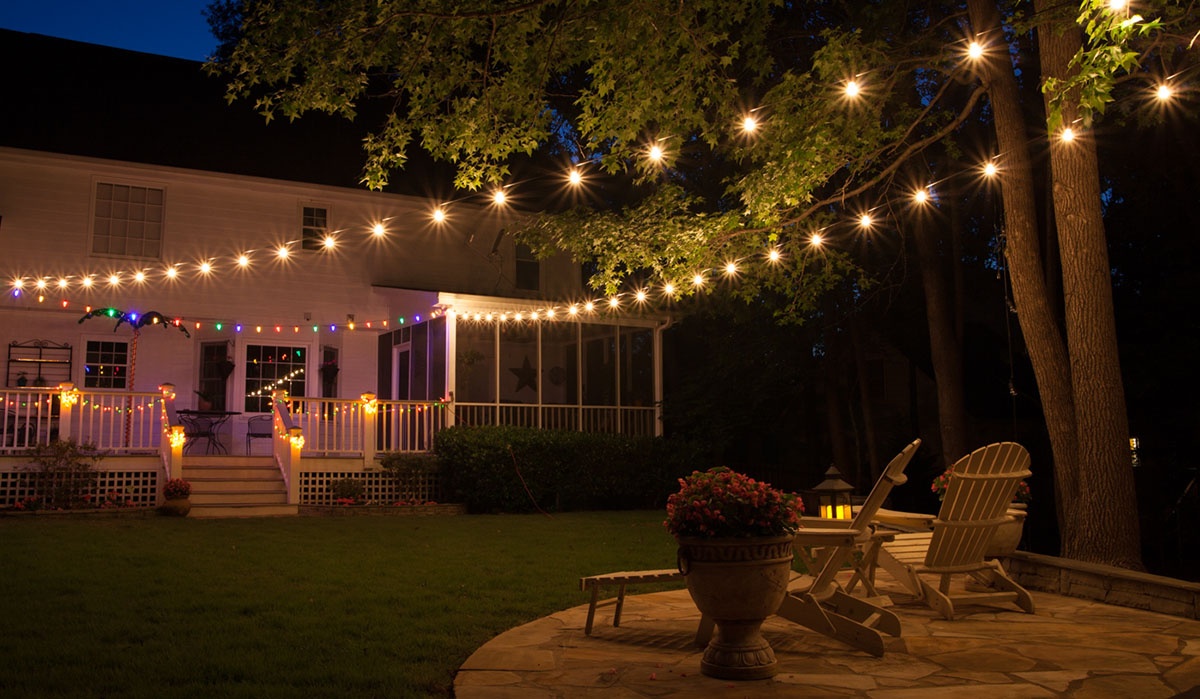 More than just enabling you to use your patio after dark, patio lighting can be used to accentuate the most attractive elements you have incorporated into your design. Solar lighting is appealing because it doesn't require any additional wiring and uses no electricity from the grid. All their energy is generated by small solar panels. Low voltage lighting is wired but uses little current and is more reliable than solar.
Solar or low voltage lighting can be used to illuminate areas. For mood lighting, strategically string Christmas lights in trees or shrubs. Small strings of lights can also be strung around patio umbrellas. Japanese lanterns, wall scones, and even candles will make the patio unique.
Planters
Patio planters can be used to help define the boundaries of your patio or use them to add a pop of color. A large planter filled with a combination of plants can become a great focal point. Planters can be used to frame spaces, by placing them on the corners you are defining that space, planters can also be used to divide larger patios into smaller sections.
Choose from the myriad styles and materials to complement your theme. Besides planter boxes and window boxes, urns and old wheelbarrows can be pressed into service as a home for beautiful flowers and fragrant vines. Planters can be used to create privacy by surrounding benches and seating areas with vines or potted trees. For plant ideas for your patio. Use these patio landscaping ideas to spruce up your patio.
Privacy
Your patio planning should account for some element of seclusion. A chain link fence covered with a profusion of vines or a thick hedge will provide solitude. Of course, a sturdy wooden privacy fence will also help to insulate you from any annoying noise pollution. A lattice wall will inexpensively zone your private Eden from the rest of the world. Again, a lush covering of flowering vines will accentuate the beauty and increase the privacy of your patio.
Your patio ideas should reflect your tastes and extend your living area into your backyard. Whether simple or elegant, the patio you design will be a focal point of your fair weather activities.