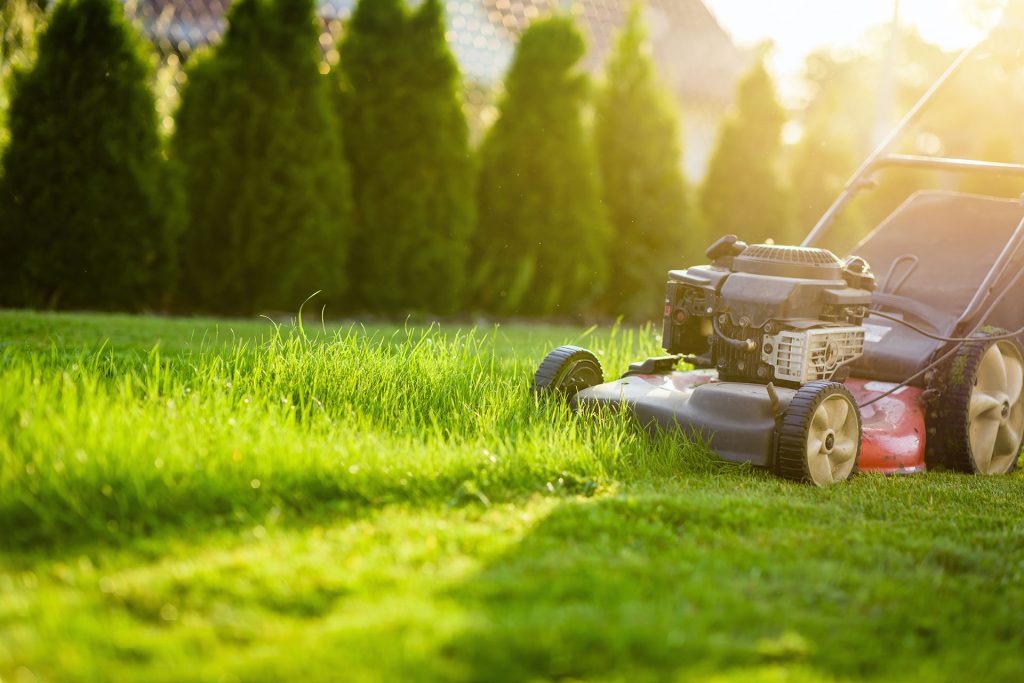 Mowing the grass is a pretty straightforward task, but are you unintentionally making the chore harder than it needs to be? Follow these 10 tips from Lowe's to make mowing the lawn easier for you and more beneficial for your grass.
Sharpen the Blades
At first you may think this tip simply lengthens your to-do list, but sharp blades prevent you from having to make multiple passes. A quick investment of your time at the start of summer can make mowing the lawn easier all season long.
Top Off the Tank
There's nothing more annoying than running out of fuel mid-mow. Plus, you're advised not to refuel a hot lawn mower. If you think the tank is running low, remember to top it off before you start the mower next time.
Check the Lawn for Debris
The last thing you need is for a rock, stick or baseball to dull your lawn mower's freshly sharpened blades. To prevent frustration and potential injury, clear these items from the grass before you start mowing.
Time Your Mowing Just Right
The best time of day to mow is when it's cool outside, so in the morning or evening. Mowing when it's cool helps keep moisture in the roots where it's needed. It also reduces the chance of heat exhaustion.
Still, the evening is preferable to the morning, because this gives the grass 12 hours of darkness to heal before the sun comes up. The grass also tends to be dewy or wet from being watered in the morning, and you shouldn't mow when the grass is wet for your own personal safety and the health of your grass.
Keep the Grass Long Enough
You may think giving your grass an extreme cut will prolong the time until you need to mow again, but cutting more than one-third of the blade at a time can damage the grass. Plus, longer blades shade the ground, which slows evaporation and helps prevent weeds from sprouting. In this way, more frequent, less extreme cuts result in a healthier lawn and fewer weeds.
Keep Grass Even Longer in the Shade
Longer grass signifies longer roots. Since grass growing under a tree must compete with tree roots for water and nutrients, help the grass stay as healthy as possible by leaving it longer than the grass growing in full sun.
Rethink Your Mowing Schedule
It's easy to cut the grass on a set weekly schedule, but keep in mind that hot, dry weather slows the growth of cool-season grass. In these conditions, you'll be happy to hear you can mow less frequently without harming the grass.
Speaking of schedules, check out these cleaning schedules, checklists and charts from Molly Maid, a fellow Neighborly company!
Change Up Your Mowing Pattern
You may fall into the habit of always mowing along the same route, but since grass tends to lean in the direction you mow, you'll encourage more upward growth and avoid ruts if you switch up the way you mow each time with different mowing patterns.
Skip the Bag
Do you think leaving grass clippings behind looks messy? Maybe so, but this organic fertilizing technique returns nitrogen and other valuable nutrients to the soil. Make sure you shoot grass clippings onto areas you've already mowed as a free way to promote a healthier lawn.
Use Caution on Hills
If you have a steep yard, never mow straight up and down. This could make you slip and injure yourself. For easier lawn mowing and a reduced chance of injury, mow from side to side across the hill.